Product Description
The Glock 43 Sneaky Pete Holster has double belt clips which can accommodate a belt up to 1.75" inches wide. The holster is made of high quality soft nylon, and when worn on the belt resembles a cell phone case. The advantage of this design is that it allows you to carry your Glock 43 concealed, but with full and easy access. Now it's possible to wear whatever you want, whenever you want to. Don't dress around your gun anymore.

The holster is made inside and out of glove-quality nylon, and uses two magnets to stay closed. Each holster is designed for your specific firearm, and the opening is made in such a way that you cannot accidentally place your finger on the trigger during draw. The Kydex insert ensures that a smooth, silent draw occurs every time.

The use of double stitching and steel rivets guarantees that this holster will last for years to come. All available options are listed above, and the holster can be ordered either with the belt loop, or optional belt clip. We design every holster to be as small as possible and still fit your pistol. This holster will not work with a pinky extender on your Glock. Frequently Asked Questions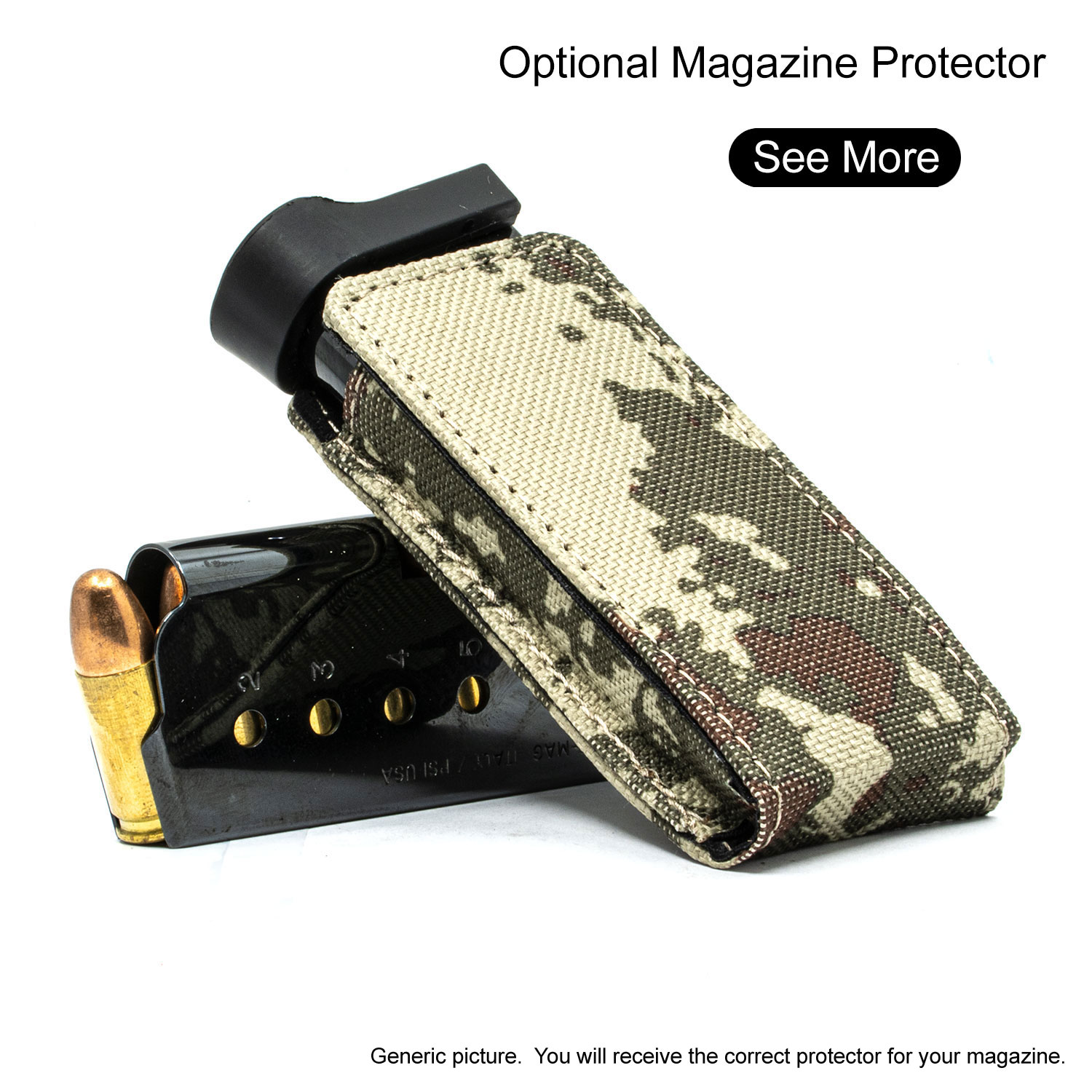 DISCLAIMER: This product is not manufactured, authorized, endorsed, or warranted by GLOCK. GLOCK does not warrant or represent that this product is compatible with GLOCK pistols.
DISCLAIMER: GLOCK is a federally registered trademark of GLOCK, Inc. and is one of many trademarks registered by GLOCK, Inc. and GLOCK Ges.m.b.H. Neither Sneaky Pete Holsters, Inc. nor this site are affiliated in any manner with, or otherwise endorsed by, GLOCK, Inc. or GLOCK Ges.m.b.H. The use of GLOCK on this page is merely to advertise the sale of GLOCK pistols, parts, or components. For additional genuine GLOCK, Inc. and GLOCK Ges.m.b.H products and parts visit www.glock.com.
Other Details
Please contact us for warranty and exchange requests.
Product Videos
Custom Field
Approx Internal Dimensions
Height 5 3/4" Width 4 3/8" Depth 1 1/8" (flush base magazine holster)
Product Reviews
Glock 43 black ballistic nylon

I was looking for a holster that was comfortable and could be carried anywhere. With Sneaky Pete, I found it. The Customer Service people were very helpful and prompt. My holster arrived in a few short days. The fit and function are precise. I'm impressed with the the quality, price and the Company overall. Five Stars plus.

When I got the holster i thought it was huge and would certainly create interest. WRONG ! It is completely invisible. I have worn it everywhere for a month and have not been asked about it a single time. I have walked into places that are posted NO G*** and no questions asked. After several weeks I started asking only my closest friends if they knew what it was and the popular answer was either a device for pain or an insulin pump. It is amazing that it is perfect camouflage and in plain sight. I will be buying at least two more. Well done.

I'm a retired LEO and a CCW holder for over 60 years. I have carried using every type of holster during this time. The Sneaky Pete is the last one obtained and I wish I had purchased this holster much sooner. I live in the northeast and find that concealed carry in this manner is perfect for me. I have never been questioned about what I have in my belt carrier nor has it brought any attention to me or my waistline. I would give it a perfect 5 star if it were a bit smaller. In all other respects it does it all for me.

It's easy to put on my belt. It keeps it's form pretty well. Most people I ask don't think I have a holster on. My shirt hangs over it easily- it doesn't catch and rest at the top. I feel confident that my concealment is secure- it isn't going to be noticed. I'm very pleased with this little holster.

Can't believe it took me so long to buy this holster. I received it, and have never used anything else since, more will I probably again. Absolutely love it. Best holster purchase to date.