Product Description
The Glock 42 Concealed Carry Holster has double belt loops which can accommodate a belt up to 1.75" inches wide. The holster is made of high quality soft leather, and when worn on the belt resembles a cell phone case. The advantage of this design is that it allows you to carry your Glock 42 concealed, but with full and easy access. Now it's possible to wear whatever you want, whenever you want to. Don't dress around your gun anymore.

The holster is made inside and out of glove-quality leather, and uses two magnets to stay closed. Each holster is designed for your specific firearm, and the opening is made in such a way that you cannot accidentally place your finger on the trigger during draw. The Kydex insert ensures that a smooth, silent draw occurs every time.

The use of double stitching and steel rivets guarantees that this holster will last for years to come. All available options are listed above, and the holster can be ordered either with the belt loop, or optional belt clip. We design every holster to be as small as possible and still fit your pistol. This holster will not work with a pinky extender on your Glock. Frequently Asked Questions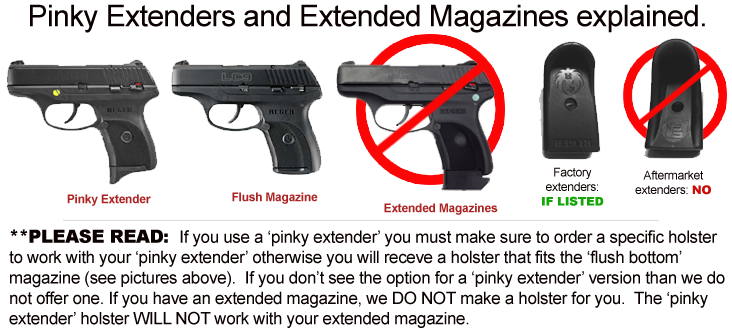 Other Details
Please contact us for warranty and exchange requests.
Custom Field
Approx Internal Dimensions
Height 5 3/4" Width 4 3/8" Depth 1 1/8" (flush base magazine holster)
Product Reviews
Bag is big and fits good.

Gun fits in bad well, bag is bulky. Opens and closes well.

Bought this as a gift for my Dad. He told me it is a great product! Really likes it. Well made.

Very happy with the product.

Most people think it is a small computer case.

This is the holster I have been looking for. I love the way it fits (2 belt loop style) It is very comfy packing and you can't tell it with your shirt tail out. Very nice.

GLOCK 42 SNEAKY PETE HOLSTER (BELT LOOP)

Very well made product, great concealment. Retrieving weapon takes a little getting use to since grip isn't exposed for whole hand to grip. Thought it would be noticeable but no one pays attention to it when i'm wearing it.

Conceals nicely

I love it, Very well made!

Belt loop holster, long term review

Bought the Glock 42 Belt loop holster in black leather over a year ago. I wear it every day to work and it has been superb! No visible signs of wear except a small dimple in the lower right hand corner where my seat belt buckle pushes on it. Fit and finish are still perfect, no seams gapping, belt loops still tight. I have had only one person ask what it was, and when I replied "Just some work tools", she was satisfied. I have only two small suggestions to make it perfect: 1) the belt loops are a bit wide (1.25") and on a small holster they are very close together. This limits the location of the holster on your belt because the belt loops are too close together to center the pants belt loop in between. 1" belt loops on the holster would be plenty strong, and allow more flexibility in positioning. 2) The two magnets are functional, but occasionally the flap will catch on something like a jacket and flip up. Three magnets would be better.

All sneaky perennial products are the best on the market bar none.