Product Description
The Glock 42 Concealed Carry Holster has double belt loops which can accommodate a belt up to 1.75" inches wide. The holster is made of high quality soft leather, and when worn on the belt resembles a cell phone case. The advantage of this design is that it allows you to carry your Glock 42 concealed, but with full and easy access. Now it's possible to wear whatever you want, whenever you want to. Don't dress around your gun anymore.

The holster is made inside and out of glove-quality leather, and uses two magnets to stay closed. Each holster is designed for your specific firearm, and the opening is made in such a way that you cannot accidentally place your finger on the trigger during draw. The Kydex insert ensures that a smooth, silent draw occurs every time.

The use of double stitching and steel rivets guarantees that this holster will last for years to come. All available options are listed above, and the holster can be ordered either with the belt loop, or optional belt clip. We design every holster to be as small as possible and still fit your pistol. This holster will not work with a pinky extender on your Glock. Frequently Asked Questions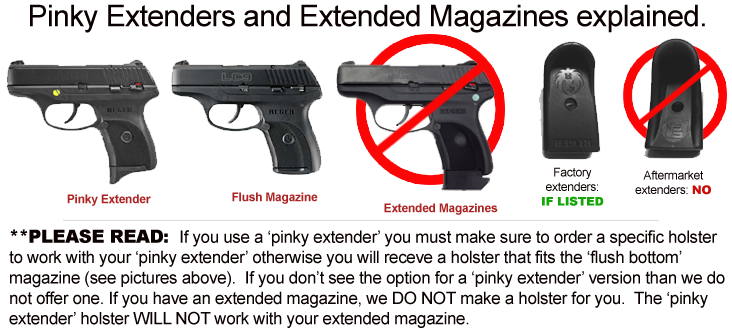 Other Details
Please contact us for warranty and exchange requests.
Custom Field
Approx Internal Dimensions
Height 5 3/4" Width 4 3/8" Depth 1 1/8" (flush base magazine holster)
Product Reviews
This is a terrific holster and a great way to make EDC EASY!!. Its well made and works. Love the quick opening. Nobody has a clue I'm carrying. I love it. My suggestion - I wish it would have a place for an extra magazine. But overall... a great job guys!!

Excellent. Love the holster it is my second one.

Steel insert rubs my side , I will trim it it , could have been done during construction.

Covert Green Holster for Glock 42

Had it for a few weeks now. Its a good product but needs refinement. Its not quite rugged or robust enough for heavy outdoor activity. The top part of the flap could be a little wider to provide better rain and dust protection. The magnets need to be twice as strong to insure the only time it opens is when the wearer intends it. Seems like it's always getting caught on the seatbelt buckle, tree branches, or equipment I'm working on. Even with those drawbacks I still like it. Just wish there was a more outdoor/ heavy duty version.

Very high quality holster and serves well to conceal my glock42 as a humongous cell phone. Makes a rather ungainly and awkward package on the belt, but is secure and gives instant access via the magnet flap. Good fit. Overall a very high quality product.

Bag is big and fits good.

Gun fits in bad well, bag is bulky. Opens and closes well.

Bought this as a gift for my Dad. He told me it is a great product! Really likes it. Well made.

Very happy with the product.

Most people think it is a small computer case.

This is the holster I have been looking for. I love the way it fits (2 belt loop style) It is very comfy packing and you can't tell it with your shirt tail out. Very nice.