Product Description
The Glock 27 Concealed Carry Holster has double belt loops which can accommodate a belt up to 1.75" inches wide. The holster is made of high quality soft leather, and when worn on the belt resembles a cell phone case. The advantage of this design is that it allows you to carry your G27 concealed, but with full and easy access. Now it's possible to wear whatever you want, whenever you want to. Don't dress around your gun anymore.

The holster is made inside and out of glove-quality leather, and uses two magnets to stay closed. Each holster is designed for your specific firearm, and the opening is made in such a way that you cannot accidentally place your finger on the trigger during draw. The Kydex insert ensures that a smooth, silent draw occurs every time.

The use of double stitching and steel rivets guarantees that this holster will last for years to come. All available options are listed above, and the holster can be ordered either with the belt loop, or optional belt clip. We design every holster to be as small as possible and still fit your pistol.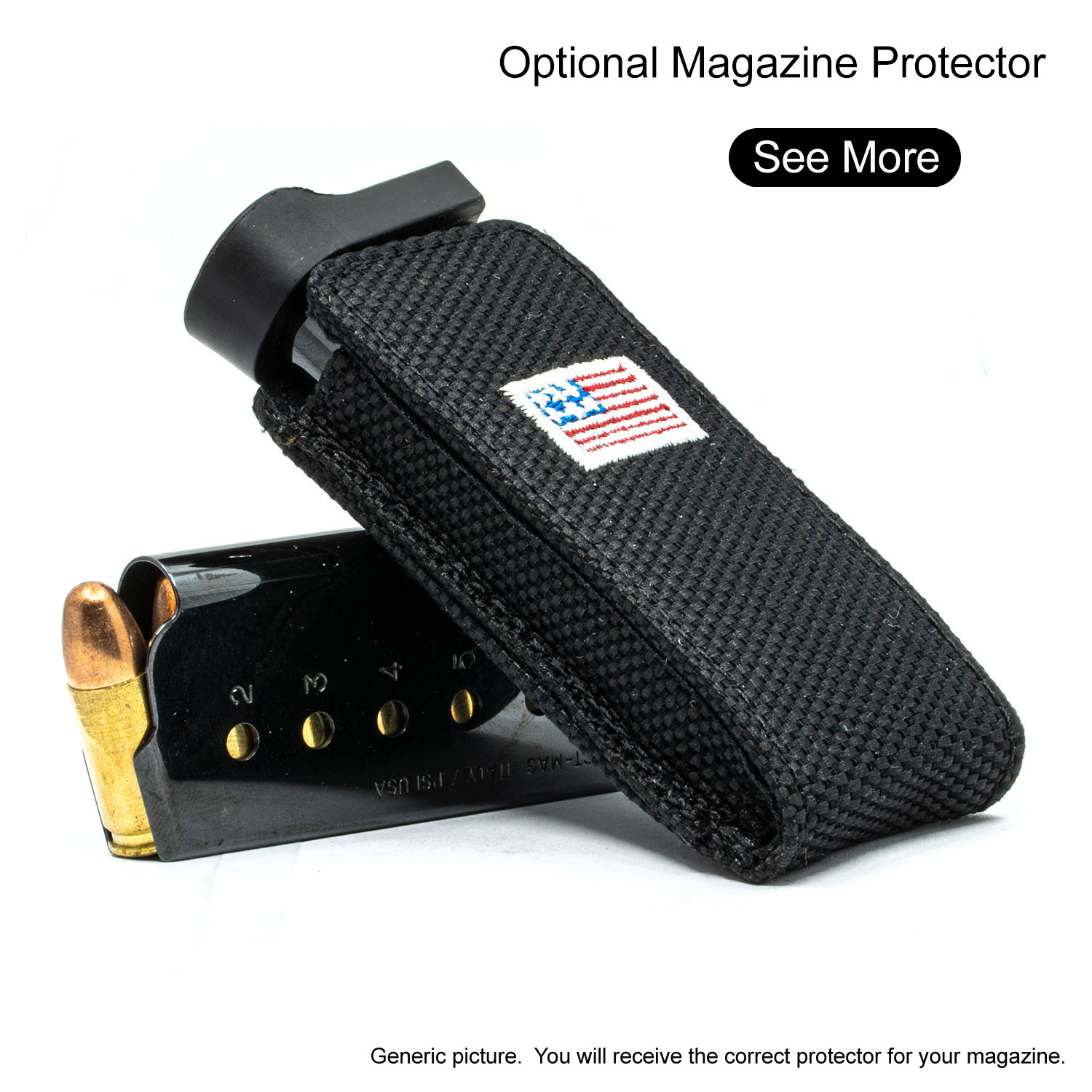 Other Details
Please contact us for warranty and exchange requests.
Custom Field
Approx Intl. Dimensions: Flush Magazine
Height 6 1/2" Width 4 1/2" Depth 1 1/8"
Approx Intl. Dimensions: Pinky Extender
Height 6 3/8" Width 5" Depth 1 1/8"
Product Reviews
Difficulty encountered in removing weapon from holster. Insufficient access to grip with 3rd &4th fingers because of leather edge blocking partial access.

Other than that great quality in leather and construction and comfort. Please contact me if any other questions? 530.913.7505 Tony

The Sneaky Pete CCW holster is attractive, takes no time to learn how to use it, and meets all company claims. The size makes me expect someone to ask about the holster, and I'm still struggling with the white lie that I'll give to avoid telling someone its true purpose. I'm totally happy with the purchase. Note that the holster can easily be concealed with a sweatshirt or shirt tail that is not tucked in.

Glock 27 Black Leather Holster

Love the look and the mechanics of the holster. Sewn Edge on the left side of the flap didn't seemed to be stitched very well and showed the tan leather. Touched it up with a black sharpie. I would like to commend the customer service representative that help me when I ordered the wrong one and she promptly corrected it. Seems to be outstanding customer service! The four stars is for the stitching.

Excellent concealment for Glock 27

I have carried concealed for 50 years. Never had a holster I didn't have to cover with a cover garment. This holds my 27 or my wife's 26 both with RMR. Works great. I'd heard of Sneaky Pete but never tried them before. 5 stars for quality and style (leather)

I purchased two of these, one for my son and One for my son in law. I was pleased with the holsters but more importantly my sons were well pleased with them.

I will likely purchase another.

Easy way to carry concealed.

should have ordered a magazine holder to. nice product

can you send me info on a holster for a B errata Tom Cat, 32 Cal. different materials will need to order it as soon as info received

This holster is very well made and my weapon fits in it superbly. It is a little large and with the heavy weapon is a little heavy. It is extremely concealable with a jacket on and is very easy to access, even while sitting. The issues I've stated are more a function related to the size (dimensions and weight) of the gun more so than the holster. The belt I purchased with the holster is very difficult to thread into the holster belt loops.