Product Description
The Glock 26 Sneaky Pete Holster has double belt clips which can accommodate a belt up to 1.75" inches wide. The holster is made of high quality ballistic nylon, and when worn on the belt resembles a cell phone case. The advantage of this design is that it allows you to carry your G26 concealed, but with full and easy access. Now it's possible to wear whatever you want, whenever you want to. Don't dress around your gun anymore.

The holster is made inside and out of ballistic nylon, and uses two magnets to stay closed. Each holster is designed for your specific firearm, and the opening is made in such a way that you cannot accidentally place your finger on the trigger during draw. The Kydex insert ensures that a smooth, silent draw occurs every time.

The use of double stitching and steel rivets guarantees that this holster will last for years to come. All available options are listed above, and the holster can be ordered either with the belt loop, or optional belt clip. We design every holster to be as small as possible and still fit your pistol.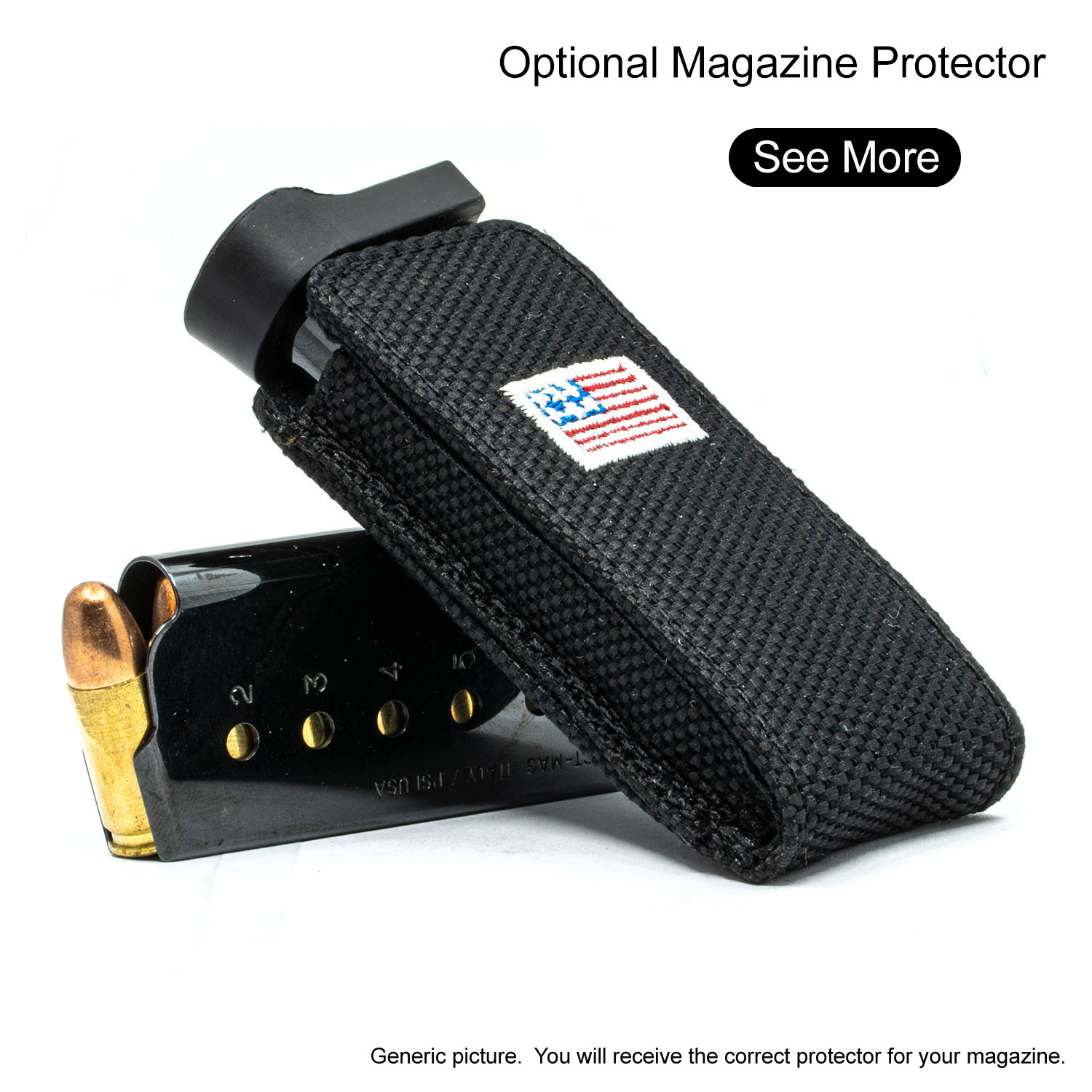 DISCLAIMER: This product is not manufactured, authorized, endorsed, or warranted by GLOCK. GLOCK does not warrant or represent that this product is compatible with GLOCK pistols.
DISCLAIMER: GLOCK is a federally registered trademark of GLOCK, Inc. and is one of many trademarks registered by GLOCK, Inc. and GLOCK Ges.m.b.H. Neither Sneaky Pete Holsters, Inc. nor this site are affiliated in any manner with, or otherwise endorsed by, GLOCK, Inc. or GLOCK Ges.m.b.H. The use of GLOCK on this page is merely to advertise the sale of GLOCK pistols, parts, or components. For additional genuine GLOCK, Inc. and GLOCK Ges.m.b.H products and parts visit www.glock.com.
Other Details
Please contact us for warranty and exchange requests.
Product Videos
Custom Field
Approx Intl. dimensions: Flush Magazine
Height 6 1/2" Width 4 1/2" Depth 1 1/8"
Approx intl. dimensions: Extended Pinky
Height 6 3/8" Width 5" Depth 1 1/8
Product Reviews
I have tried a lot, of everyday carry holsters, and this is becoming my EDC holster. For me, it fits perfectly on my belt and waistband, and it is surprisingly intuitive to draw from. I love the idea that I do not have to move my shirt out of the way like I have to with a traditional IWB holster.

Wow, I just received the first pre-production version of this holster and I can't believe that no one thought of this sooner! I fell like I have 3 different holsters for the price of one since I bought two extra tactical patches. Thanks Sneaky Pete, now I'm even sneaky-er!