Product Description
The Glock 19X Sneaky Pete Holster (Belt Clip) has a sewn belt clip which can accommodate a belt up to 1.75 inches wide. The opening is made in such a way that you cannot accidentally place your finger on the trigger during draw.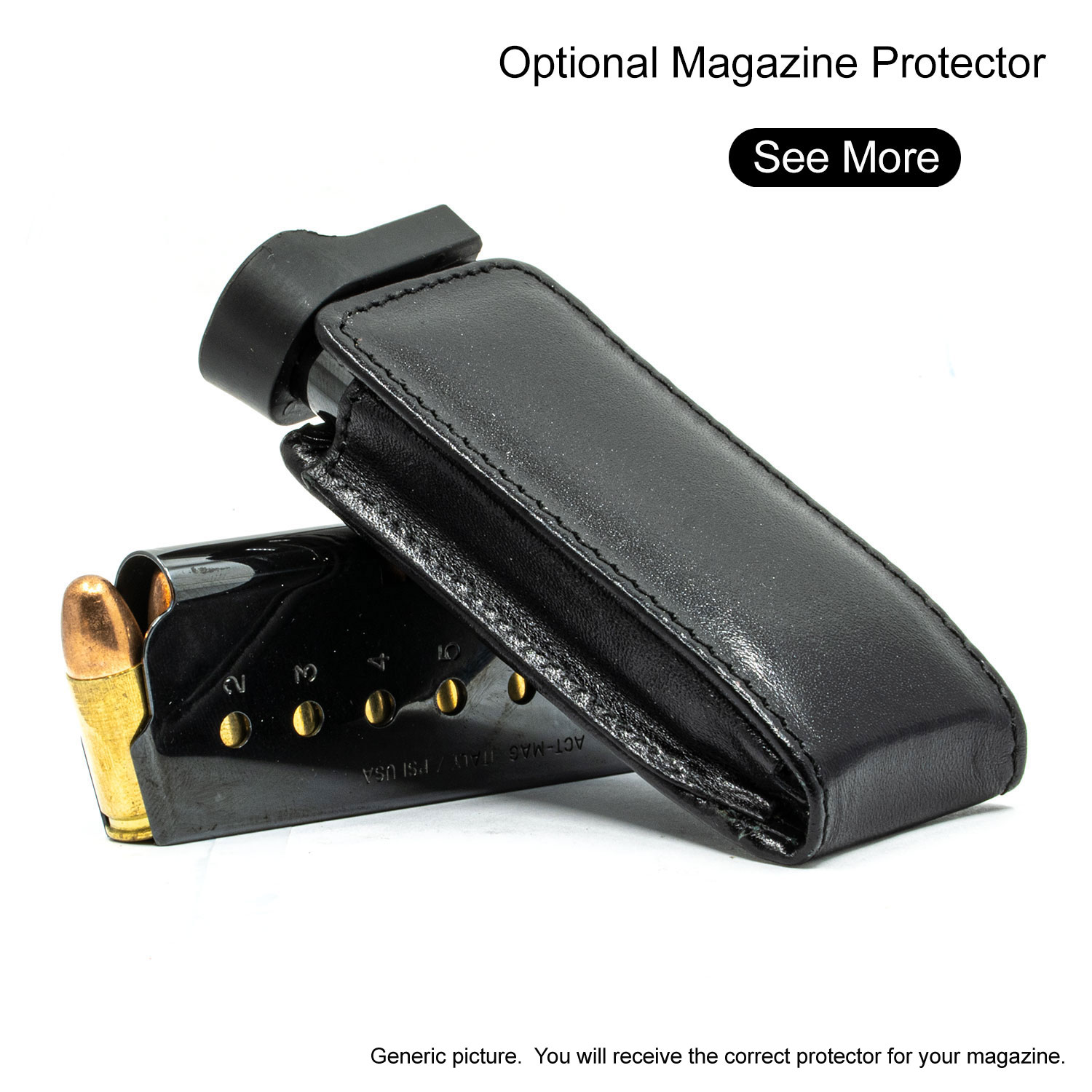 DISCLAIMER: This product is not manufactured, authorized, endorsed, or warranted by GLOCK. GLOCK does not warrant or represent that this product is compatible with GLOCK pistols.
DISCLAIMER: GLOCK is a federally registered trademark of GLOCK, Inc. and is one of many trademarks registered by GLOCK, Inc. and GLOCK Ges.m.b.H. Neither Sneaky Pete Holsters, Inc. nor this site are affiliated in any manner with, or otherwise endorsed by, GLOCK, Inc. or GLOCK Ges.m.b.H. The use of GLOCK on this page is merely to advertise the sale of GLOCK pistols, parts, or components. For additional genuine GLOCK, Inc. and GLOCK Ges.m.b.H products and parts visit www.glock.com.
Other Details
Please contact us for warranty and exchange requests.
Product Videos
Custom Field
Approx Internal Dimensions
Height 7" Width 5 1/2" Depth 1 3/8" (flush base magazine holster)
Product Reviews
Leather Sneaky Pete Holsters

These holsters are TOUGH. They last years under rough handling. I've worn them daily for years. Safe, protective, and secure. No threat projected. Black Rifle coffee sticker on the flap.

Will fit my HK P7

Glock 19X Leather Holster

Got this for my new 19X. Holster is very well made with quality material. The gun fits securely inside and is easy to draw. I do not wear IWB, and I believe this is the best OWB out there. I have this holster for my Glock 33 that I have used for about 8 years. It still looks great and is structurally sound as the day I got it. I don't see me using anything except Sneaky Pete holsters anytime in the future.

Works great fit and feel

Excellent material, fast shipping.

Fits y S/W SD9 with laser. Easy to carry on my belt and offers desired concealed carry. Could not find another holster that fit .

I received this holster after a slight delay. I guess it should be expected with everything going on in the world these days. It's much better quality than I hoped. The pictures don't do it justice.