Product Description
The Glock 19 Sneaky Pete Holster has double belt clips which can accommodate a belt up to 1.75" inches wide. The holster is made of high quality soft leather, and when worn on the belt resembles a cell phone case. The advantage of this design is that it allows you to carry your Glock 19 concealed, but with full and easy access. Now it's possible to wear whatever you want, whenever you want to. Don't dress around your gun anymore.

The holster is made inside and out of glove-quality leather, and uses two magnets to stay closed. Each holster is designed for your specific firearm, and the opening is made in such a way that you cannot accidentally place your finger on the trigger during draw. The Kydex insert ensures that a smooth, silent draw occurs every time.

The use of double stitching and steel rivets guarantees that this holster will last for years to come. All available options are listed above, and the holster can be ordered either with the belt loop, or optional belt clip. We design every holster to be as small as possible and still fit your pistol. This holster will not work with a pinky extender on your Glock. Frequently Asked Questions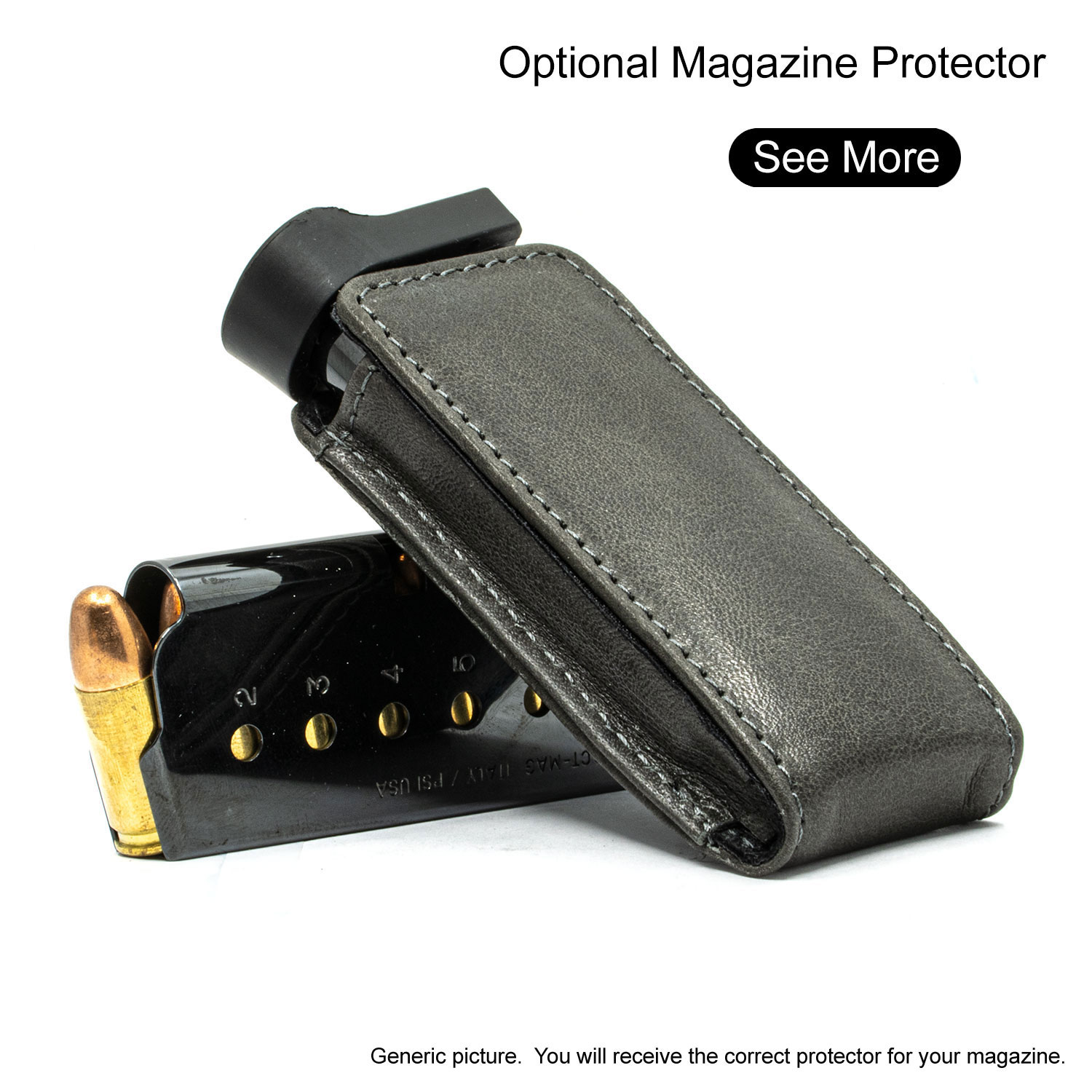 Other Details
Please contact us for warranty and exchange requests.
Product Videos
Custom Field
Approx Internal Dimensions
Height 7" Width 5" Depth 1 3/8" (flush base magazine holster)
Product Reviews
GLOCK 19 BLACK FREEDOM SERIES HOLSTER

While I purchased this holster to house my pitol with a Crimson Trace Laser sight, for that purpose it works. I had intended to cross carry it, but it is more comfortable on the right side, especially in the car. Yet to be determined, is the main purspose of warm weather carry with shorts, which are mainly worn in the southern climate in which I live. I'll know better in the days ahead. The case is described as black, but it's more of a dark coffee color that actually blends better with all shades of clothing. It is extremely well constructed. The only drawback so far is because of the excellent stitching on the double belt loops, it is difficult to push a thick belt through. The drawback is, when not wearing it, I need to keep another thick belt in the loops or have to struggle pushing the belt through each time I carry it. Please send me another request at the end the summer, as I'll have longer time to take it with me. Under a jacket it is bulky, so I carry a .38 special instead. Therefore I gave it 4 stars at this time and glad I bought it.

Looks great, fits great, color is different than what is pictured color is more like charcoal gray than black unless mine was packaged wrong. Hopefully it holds up as well as the one I purchased for my XDS about 6 years ago.

I was a little skeptical at first but I bought this holster because it could be worn and not instantly recognized for what it is. I have had our local sherif deputies even ask to take a look at it. The build quality is top notch. The leather is very good quality. And most of all it just blends in. You can't tell it's a holster for a gun. People just think it's a really big case for a phone or something. Very happy with it. And I wear it everyday

Great fit and finish for my everyday carry.

I own several different Sneaky holsters for different occassions and I can testify that these Freedom Series are the top of the food chain. Keep up the great work!