Product Description
The Bersa Thunder 380 Concealed Carry Holster has sewn belt loops which can accommodate a belt up to 1.5" inches wide. The holster is made of high quality soft leather, and when worn on the belt resembles a cell phone case. The advantage of this design is that it allows you to carry your Bersa concealed, but with full and easy access. Now it's possible to wear whatever you want, whenever you want to. Don't dress around your gun anymore.

The holster is made inside and out of glove-quality leather, and uses two magnets to stay closed. Each holster is designed for your specific firearm, and the opening is made in such a way that you cannot accidentally place your finger on the trigger during draw. The Kydex insert ensures that a smooth, silent draw occurs every time.

The use of double stitching and steel rivets guarantees that this holster will last for years to come. All available options are listed above, and the holster can be ordered either with the belt loop, or optional belt clip. We design every holster to be as small as possible and still fit your pistol.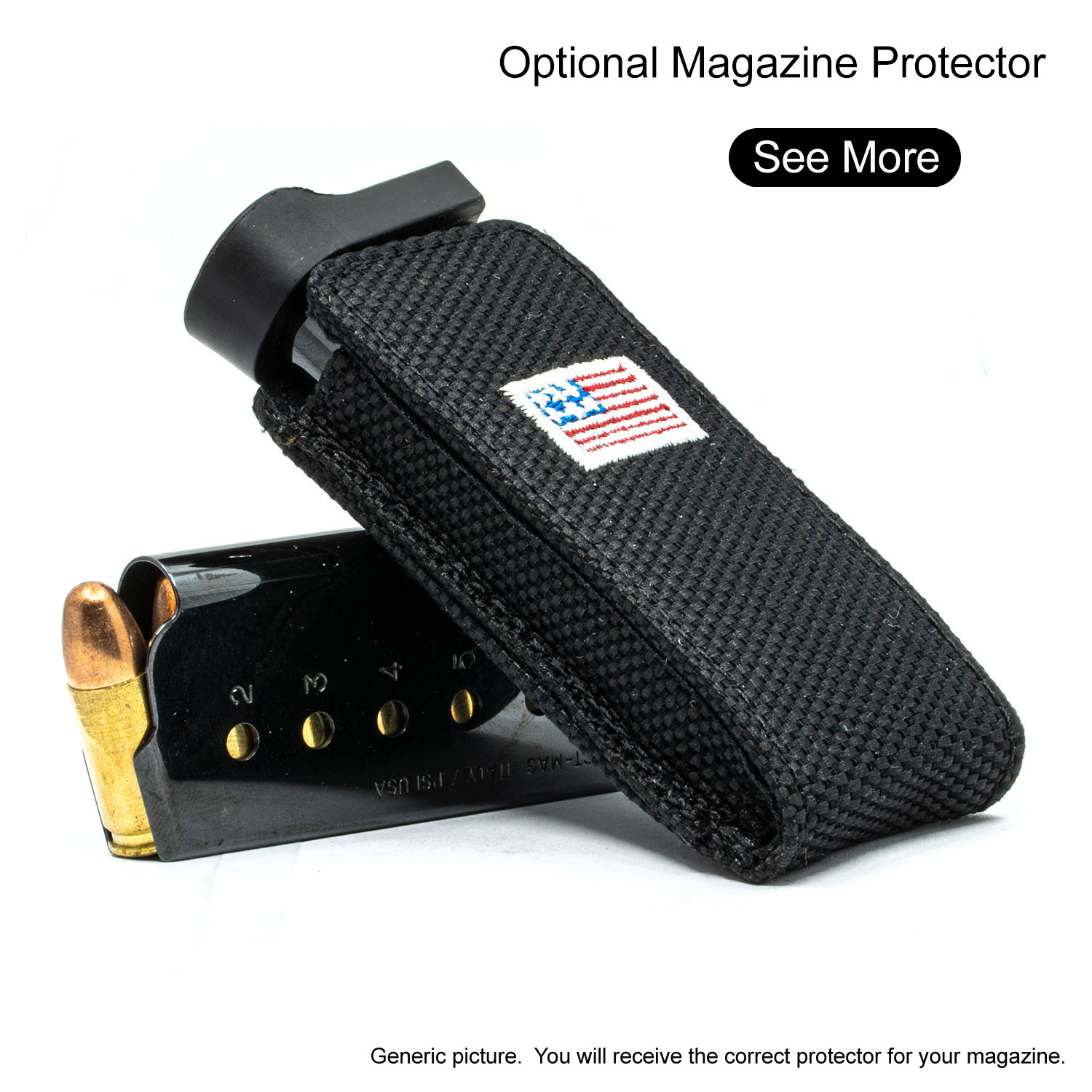 Other Details
Please contact us for warranty and exchange requests.
Custom Field
Approx Internal Dimensions
Height 6 1/2" Width 4 1/2" Depth 1 1/8" (flush base magazine holster)
Product Reviews
Bersa Thunder 380 Holster

The holster is a top notch product and I am very happy with it. My only regret is that I ordered the belt loop model and now wish I had ordered the belt clip model. It would be much easier to remove. But I still love the holster!

Nicely put together and so far no one has even commented on it when I wear it.

Great workmanship and beautiful. I was a bit surprised by its size. Bigger than I thought. To be honest it is exactly the size it needs to be. I wore it for a week before actually carrying, wanted to see the response and looks from others. I actually carried my cell phone in it and when someone actually looked I would open it and pull out my phone. I love the style and how it holds my side arm. Easy access and no arm rub while driving or walking. Worth the money. Fast order processing and shipping. Thank you SP. great product.

380 Bersa Thunder Holster

Love this holster! Very nicely made. My Bersa fits perfectly.

I am wells satisfied just takes a while to get use too.

Sneaky Pete holster for Bersa Thunder 380

Love this holster, it's great for concealed carry!

Too big to wear with shirt tucked in,very noticeable. Excellent craftsmanship.guess I need to buy a smaller gun

I love using the holster, it is comfortable on my hip, and easily accessed, I just wish it was easier to get in and out of my car with it on. I have an older Jeep Compass, and I am a big guy, and it is a tight fit getting in and out. .

Thanks, The holster performs well and is just what I needed !