Product Description
The Beretta Pico Sneaky Pete Holster has sewn belt clips which can accommodate a belt up to 1.75" inches wide. The holster is made of high quality soft leather, and when worn on the belt resembles a cell phone case. The advantage of this design is that it allows you to carry your Pico concealed, but with full and easy access. Now it's possible to wear whatever you want, whenever you want to. Don't dress around your gun anymore.

The holster is made inside and out of glove-quality leather, and uses two magnets to stay closed. Each holster is designed for your specific firearm, and the opening is made in such a way that you cannot accidentally place your finger on the trigger during draw. The Kydex insert ensures that a smooth, silent draw occurs every time.

The use of double stitching and steel rivets guarantees that this holster will last for years to come. All available options are listed above, and the holster can be ordered either with the belt loop, or optional belt clip. We design every holster to be as small as possible and still fit your pistol.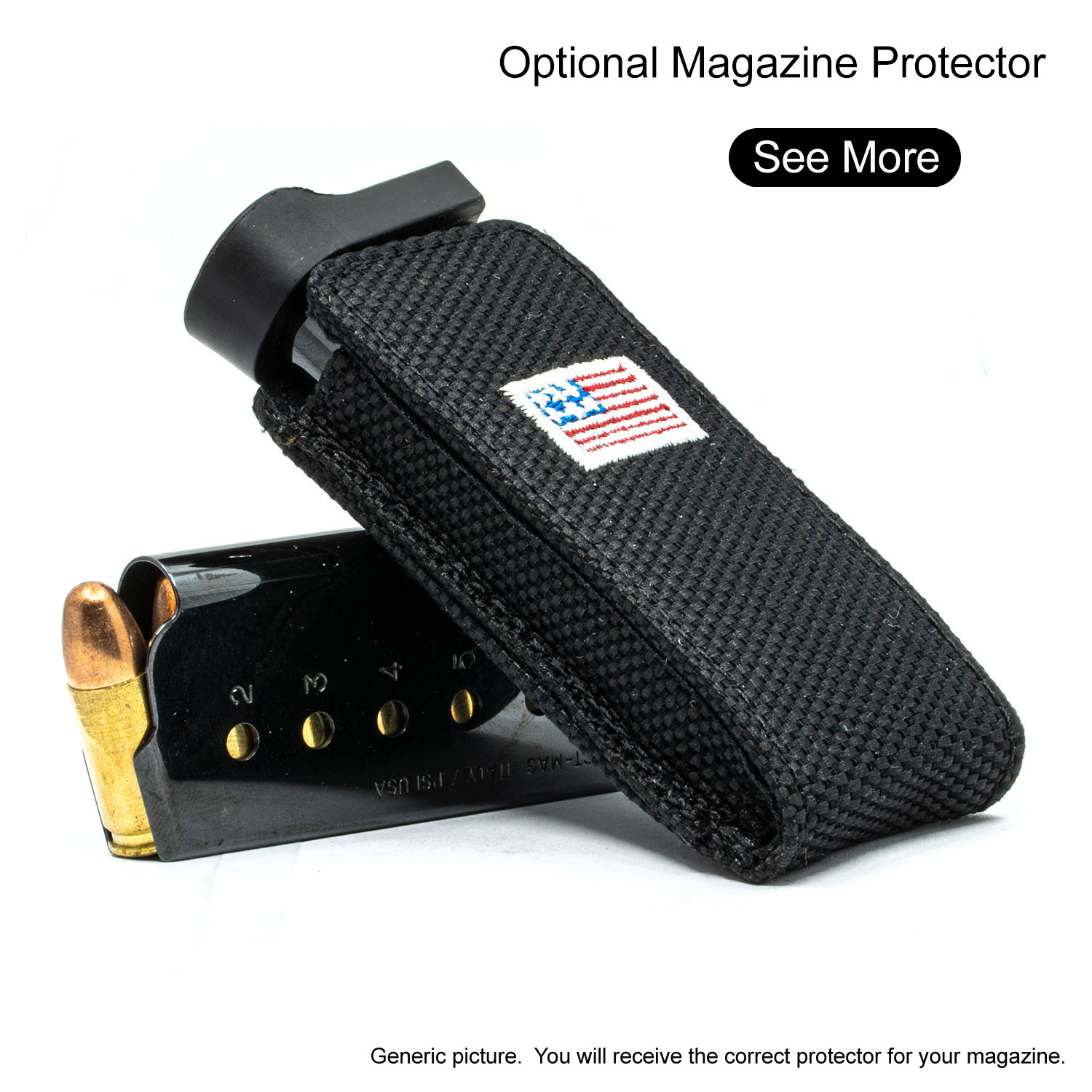 Other Details
Please contact us for warranty and exchange requests.
Custom Field
Approx Internal Dimensions
Height 5" Width 4 1/8" Depth 1" (flush base magazine holster)
Product Reviews
Beretta Pico Sneaky Pete Holster (Belt Clip)

Nice case....looks great like a bible case

Beretta Pico Sneaky Pete Holster

My Beretta Pico fits perfectly in this holster. This is a very discreet way to carry.

BERETTA SNEAKY PETE HOLSTER

THIS IS MY FAVORITE HOLSTER. IT PROVIDES ULTIMATE CONCEALMENT AND EASY, FAST ACCESS TO MY WEAPON. A PERFECT NOT IN-YOUR-FACE WAY TO CARRY A FIREARM.

Very well made. Does the job and no one knows what's in it.

I have spent a good bit of money on holsters and never found one that was comfortable, made the weapon undetectable by the general public and could provide easy access while driving. The Sneaky Pete tics all the boxes. The holster is extremely well made and being weapon specific there is no rattle or bounce. I was hesitant about the price but am glad I sprung for the embossed model, definitely adds a touch of class when dressed up for a night out.

It's a nice looking he later of quality materials BUT for the Pico it doesn't allow for the extended mag which is a factory clip. It comes with 2 clips shorty and extended. Anyway, they don't even offer an option for the extended mag so naturally I was disappointed when it came. Well if any of you have this problem the Pico actually fits well with the extended mag IF you remove the plastic molded insert. It's just put in w Velcro. It would appear to me that the material is heavy duty enough and the gun doesn't move around in the holster at all when closed. With a size 14 ring finger this is a must. **Reply** Thanks for the review. We specifically do not offer the option for a pinky extender magazine for the Pico, so the fact that your extended magazine does not work without removing the protective plastic insert shouldn't be a knock against us or the holster since you are not using it as intended.

Comfortable to wear, easy access and well fitted.

I like the holster well enough, but I thought the belt clip would hold a little tighter than it does. Perhaps some sort of extra spring clip would help. The way it is now, it doesn't take much to knock the holster loose.

The quality and accuracy of the build on this holster is by far superior to the "wanna be" other holsters. I have one in leather and one in nylon to fit the right discrete look. I can't say enough about the durability. The magnets have never failed after many different situations where if the magnets failed there could be exposure of the gun or damage to the gun. Keep up the solid build!