Product Description
The Walther PPK Concealed Carry Holster has sewn belt loops which can accommodate a belt up to 1.5" inches wide. The holster is made of high quality soft leather, and when worn on the belt resembles a cell phone case. The advantage of this design is that it allows you to carry your Walther concealed, but with full and easy access. Now it's possible to wear whatever you want, whenever you want to. Don't dress around your gun anymore.

The holster is made inside and out of glove-quality leather, and uses two magnets to stay closed. Each holster is designed for your specific firearm, and the opening is made in such a way that you cannot accidentally place your finger on the trigger during draw. The Kydex insert ensures that a smooth, silent draw occurs every time.

The use of double stitching and steel rivets guarantees that this holster will last for years to come. All available options are listed above, and the holster can be ordered either with the belt loop, or optional belt clip. We design every holster to be as small as possible and still fit your pistol.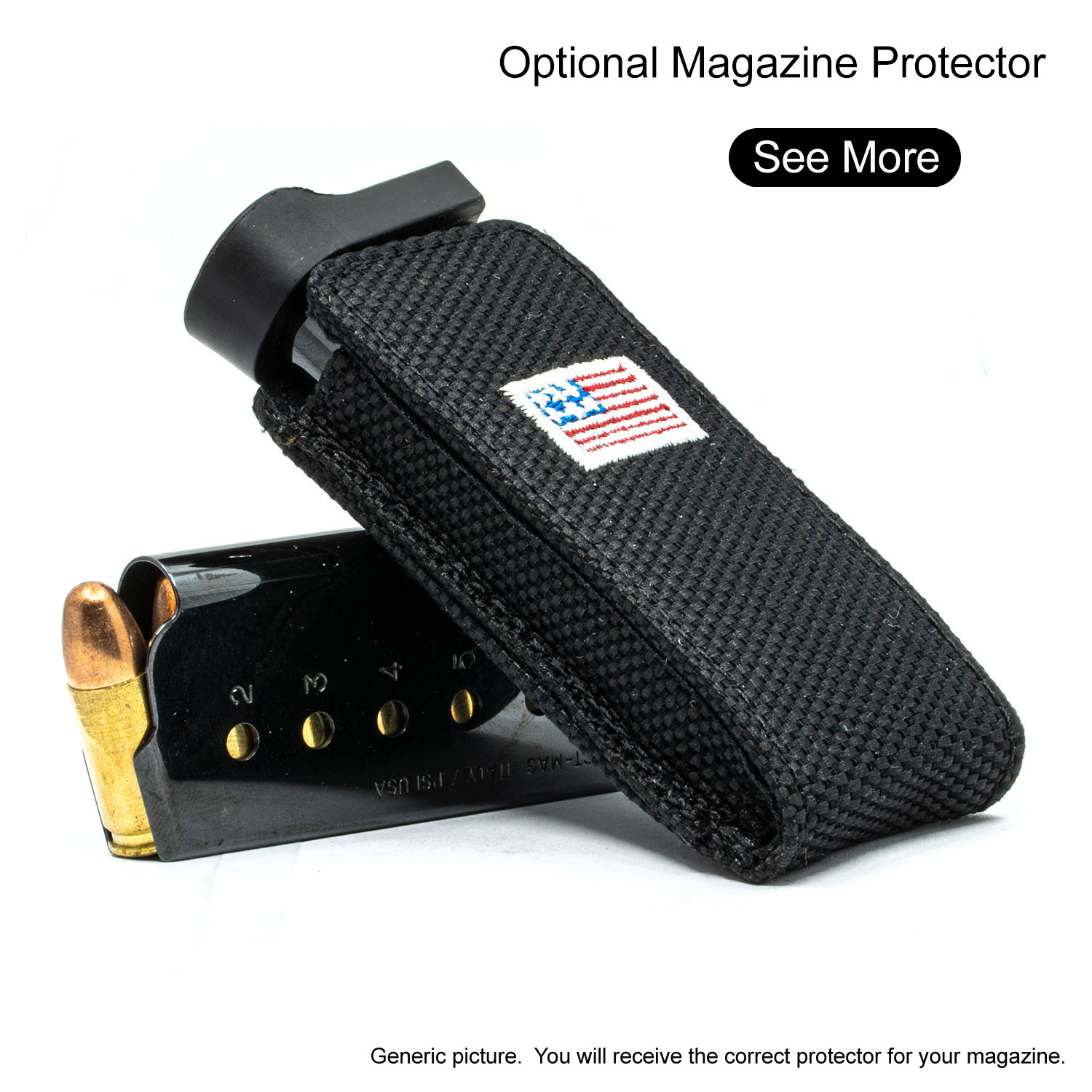 Other Details
Please contact us for warranty and exchange requests.
Custom Field
Approx Internal Dimensions with Flush Base Plate
Height 5 3/4" Width 4 1/8" Depth 1 1/4"
Approx Internal Dimensions with Pinky Extender
Height 5 3/4" Width 4 5/8" Depth 1 1/4"
Product Reviews
great product

everything I expected based on advertising

good quality...good customer service

Excellent Customer Service

I'm delighted to have my SneakPete Holster for my Walther PPK/S. Because of my profession in the medical field, most people think I'm carrying a first responder kit. However, I want to address the exceptional customer service I received in dealing with my recent order. I accidentally selected the wrong holster for my PPK/S. Upon receiving it, and trying to use it, I realized I had ordered the one designed to fit the PPK, not the PPK/S. I got on line, had a few email exchanges, returned my the original holster and within days, the correct one arrived on my door step. It was easy, fast and even though it was my mistake, the folks at SneakyPete made it easy to correct. Thanks for your prompt attention in getting my order resolved. I'm thrilled with my holster

great fit love my sneaky pete.

the sneaky pete is a great way to carry.

Everyone Should Have One!

Very excited just got my Sneaky Pete holster for my Walther PPK S and love it. Everybody just thinks it's a phone case. I love this holster, it's perfect for carrying my gun. I have a Walther and Glock 26, I was not sure which holster to get. Some of the reviews for the Glock said it was really large. Well what size would you expect to carry a Glock. Anyway I got the one for the Walther PPK S and it fits the gun great, even room for an extra mag in the bottom. Works perfectly, with the added bonus of also working great for my Glock 26 with the extend mag finger piece on the end. So both guns work great in this holster. I would say that if you carry a gun you should have this holster. The thing that always made me nervous about my other holsters is that if I stretch or raise my hands up high my shirt comes up and can expose the gun. So it's a relief with the Sneaky Pete not to have to worry about that.

I've been looking at these for some time. I ordered (I thought) a PPK/s holster. I was a little confused when all the communications came listing PPK holster. I was thinking I would have to send it back for the correct one. When it came I tried it with the mag. that I use the flat bottom one, and the fit was perfect. I won't fit with the pinky extension mag. So if you are using a PPK/s with the flat bottom mag this is the one you want.

The holster is quality made and attractive. The only issue I had was the bent spring piece that lets the weapon sit correctly, came loose. I believe that is a minor fix on my part. Customer service is excellent.

I have now had my Sneaky Pete for over a month. It is well constructed and the only change I would make is a lining on the forward edge to it does not collapse with age. I have had the pleasure of wearing it everywhere and never a question of whether I was packing and that is what it is about when packing concealed.. Great product will be ordering one for my 9mm next.

Often, concealed carriers need more than one method of carrying a firearm determined by the person's activities or dress for the day. The PDA style external carrier is nearly perfect, and Sneaky Pete makes the best in class. The holster is like many other fine leather products that you might purchase in an upscale retail store. I will be purchasing more Sneaky Pete holsters for additional firearms, and I highly recommend this quality product.